METAhub Frankfurt is based on a new form of cooperation between museum curators, documentaries and dramaturges on the one hand and coders and artists on the other. With METAhub Frankfurt, the Jewish Museum and the Archaeological Museum Frankfurt are developing a digital application that brings together part of their collections, makes them available in narrative form and makes it possible to experience them in their former place as augmented reality. In an initial development phase, the early modern Judengasse, the Börneplatz synagogue and the early medieval imperial palace Franconofurd can be experienced digitally. In total, both museums have around 5,000 objects related to these locations. These include archaeological finds, ceremonial and everyday objects as well as numerous documents that can be used to reconstruct and tell stories. The Künstlerhaus Mousonturm and the NODE Forum are now inviting artists to perform performative interventions in the urban space with the digitized cultural goods, providing contact with coders who further develop the application and the reusable data, and as a digital partner brings its expertise in participatory development socio-political issues.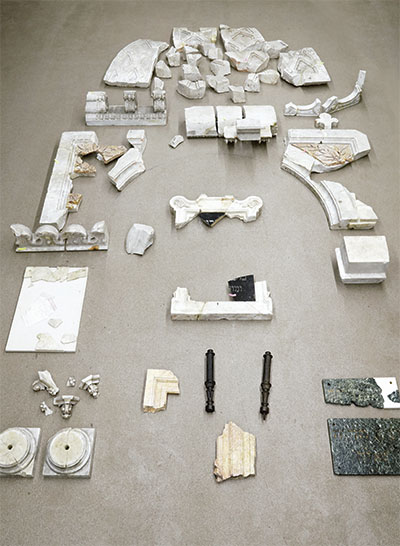 In the restoration workshop for stone monuments the fragments of the destroyed Torah shrine were sorted and laid out.
© AMF, Uwe Dettmar


"METAhub Frankfurt – Museums, Education, Theatre, Arts – culture in digital and urban space", funded by the Digital Fund within the Digital Culture Programme of the German Federal Cultural Foundation and by the City of Frankfurt Department of Culture and Science, is a cooperation project between the Jewish Museum Frankfurt, the Archeological Museum Frankfurt and the Künstlerhaus Mousonturm in partnership with NODE Forum for Digital Arts.
Sponsored in the program